New 10L Disinfectant Cleaner available!
See our full product range
We do not and will not test on animals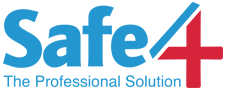 Safe4 has been leading the field of disinfection control for twenty years and is proud to be helping its clients to attain the highest standards of care within their fields.  Whether you are operating in the animal welfare, health or public utility you will find peace of mind and confidence by becoming a member the Safe4 family.  Why not contact us today to discuss your specific requirements.
FREE DELIVERY
With all orders above $550
I am the owner of "Canine Retreat" a very select boarding kennel for small dogs under 15 kg. We take hygiene very seriously, we have done a lot of research around which products to use. There are many out there that kill all imaginable bacteria and viruses, but Safe4 is the only one we found you do not have to wash off. This is such an advantage leaving it on all the surfaces continuing to do its job. Having used it for the last year I couldn't possibly go back to a system where you apply , leave, then wash off, I speak to local vets and can't believe they use that system. Great product, competitively priced, fantastic service, awesome backup.

Terry Wilkin
We have a busy small animal veterinary clinic in Christchurch. Preventing transmission of disease within the clinic consulting rooms and surgery is essential. While we were happy with the efficacy of our previous product, we were finding that using it in a spray bottle to spray and wipe table tops between patients, was causing our staff to cough. It was irritating and uncomfortable. Since switching to Safe4 this has stopped completely. We use the green apple scented product which has a pleasant smell, and we are confident in the ability of the product to deliver on efficacy.

Heather Mills (Veterinarian)